Standard Flexible Couplings
Standard Flexible Couplings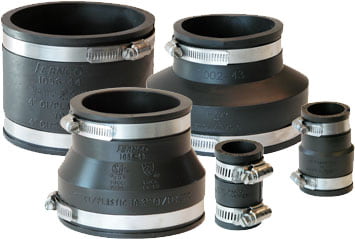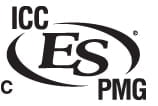 Click on the coupling series below that you wish to view
Fernco Flexible Couplings
Fernco manufacturers the most complete line of flexible couplings in the industry, from sizes of 3/4" to 27" (19mm to 381mm).
Fernco Couplings have earned a reputation for consistent, superior performance, giving you full confidence in their quality and reliability.
The dimensional flexibility of Fernco couplings ensures leak-proof pipe seals on virtually any pipe material: plastic, cast iron, asbestos cement, clay, concrete, steel, copper and ductile iron. All flexible couplings are clearly marked with part number, size, and pipe material that the coupling will connect to.
Fernco makes fast delivery of stock items. For special applications, our custom design service can supply couplings to individual customer requirements.
Tested designs backed by over five decades of proven performance
Positive seal against infiltration and exfiltration
Leak-proof and is resistant to chemicals, ultraviolet rays,
fungus growth, and normal sewer gases
Conforms to ASTM D 5926, C 1173 and CSA B602
Connects same or different pipe sizes and materials quickly and easily
Stainless steel clamps are corrosion-resistant and rustproof
Tech Specs:
Installation torque: 60 inch lbs.
Maximum test pressure: 4.3 PSI (29.6KPA)
Maximum operating temperature: 140º F non-consistent
Minimum operating temperature: – 30° F