Qwik Caps
Qwik Caps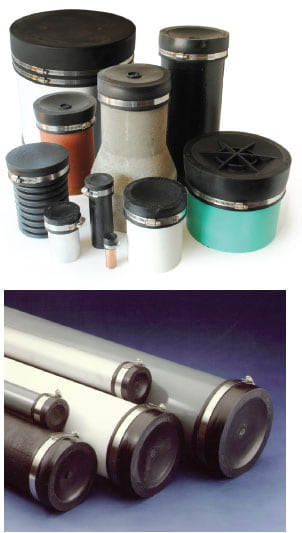 Quick, reusable caps for pipe ends, testing & clean-outs.
Qwik Caps offer a quick, easy way to cap pipe ends, test pipes and clean-outs. Made of flexible PVC, their durability causes them to be suitable for above-ground or under-ground use .
To install, simply place over open end of pipe and tighten to 60" lbs. of torque. Remember to hand tighten when installing on corrugated pipe.
NEW SIZES ADDED TO INVENTORY
Features
Fast, easy installation.
Permanent or temporary
Underground or above-ground
Low cost and reusable
Convex face minimizes ballooning
Specifications
Flexible PVC Gasket complying to ASTM D 5926
300 stainless steel clamps
Models

| Part No. | ID | Min | Max |
| --- | --- | --- | --- |
| QC-0.85 | 0.85 | 0.79 | 0.91 |
| QC-101 | 1.90 | 1.75 | 2.00 |
| QC-1.07 | 1.07 | 1.00 | 1.12 |
| QC-1.38 | 1.37 | 1.22 | 1.50 |
| QC-1.68 | 1.68 | 1.37 | 1.87 |
| QC-102 | 2.40 | 2.25 | 2.60 |
| QC-2.75 | 2.75 | 2.18 | 2.93 |
| QC-103 | 3.50 | 3.25 | 3.70 |
| QC-3.75 | 3.76 | 3.29 | 4.00 |
| QC-104 | 4.50 | 4.25 | 4.70 |
| QC-4.75 | 4.82 | 4.32 | 5.05 |
| QC-105 | 5.60 | 5.35 | 5.80 |
| QC-106 | 6.60 | 6.35 | 6.80 |
| QC-7.00 | 6.96 | 6.44 | 7.25 |
| QC-108 | 8.50 | 8.25 | 8.70 |
| QC-110 | 10.47 | 9.88 | 11.00 |
| QC-9.00 | 9.01 | 8.59 | 9.34 |
| QC-9.75 | 9.75 | 9.29 | 10.00 |
| QC-10.75 | 10.74 | 10.22 | 11.15 |
| QC-112 | 12.49 | 11.41 | 13.33 |
| QC-14.00 | 14.00 | 13.23 | 14.30 |